Below is a list of books that I recommend for your IELTS preparation. The first set of books are a must for IELTS and no student should be without one of them. The rest are useful books which you can get depending on your time limit and areas of weakness. There are many books for IELTS preparation on the market but these are the standard books that you will need.
IELTS Books
Below are two books which you really should consider to help you prepare for your IELTS test.
IELTS Cambridge Test Books
These are real IELTS tests published by IELTS for you to use at home. Each book contains four IELTS tests. They are a bit expensive but at least they are authentic. Book 14 is the most recent. Note:
No student should enter the IELTS exam without having first done some practice tests from one or more of these books.
These books have limited topics and questions for the speaking test. You will need to find practice speaking topics online instead. Here's a link to some free speaking topics and questions for IELTS.
Where to buy: These books can be bought from any amazon online store. They can be bought new or second hand. It might also be possible to find them in your local book stores.
Ideas for IELTS Essay Topics E-book
Ideas for over 150 IELTS essay topics for writing task 2. Suitable for both Academic and GT tests.
A very useful e-book with ideas and vocabulary to help increase your writing task 2 score. The level of language and ideas is targeting a higher band score. It comes in pdf form.
Where to buy: Available in my online store. Click here: IELTS Liz Online Store.
Grammar for IELTS Writing Task 2 E-book
Take your English language to a higher level by learning complex grammar in easy steps. Improve your grammar score for writing task 2 with this e-book. Learn how to create complex structures and see a range you can use in your essay. Learn about aspects of grammar the examiner will mark you on and learn to improve your accuracy to boost your score. This is a complete grammar book for more than just IELTS – it is to help you develop your English for your future.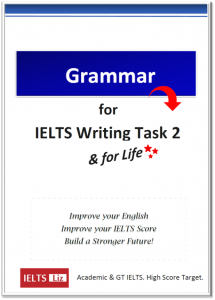 Where to buy: Available now in Liz's Store. Click here: Visit Store.
Other Useful IELTS Books
IELTS Official Practice Materials: If you have completed the above set of test papers (IELTS Cambridge Books), you should try these practice materials.
IELTS Trainer: This is a book which contains 6 practice tests for IELTS as well as some useful advice for tackling the test. Please note that the practice tests are not officially published by IELTS (they are not written by IELTS) but are still quite realistic and good practice. Also note that the practice test materials in this book are for the academic paper only.
………..
Free Subscribe to Receive New Posts by Email